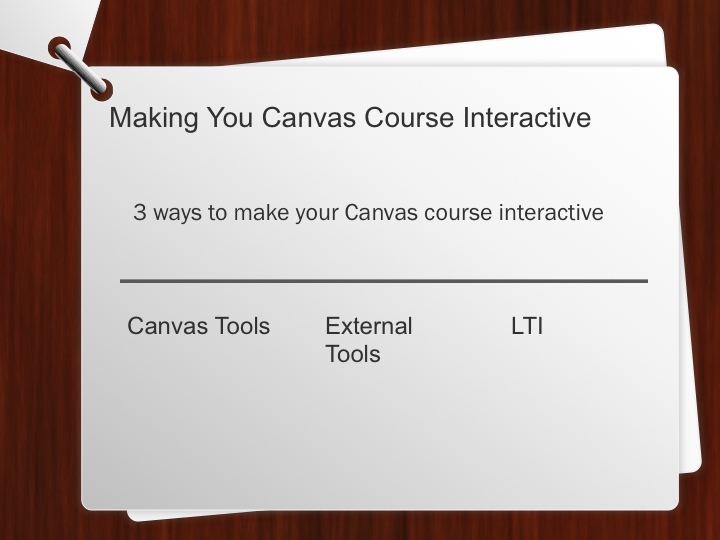 There are so many ways to enrich online content, make it interactive and more appealing to students. Online courses need not be just text any more, especially when taking advantage of the features in Canvas. The following are just a few ideas that will help you move beyond just text. See the attached document Interactive Instruction below for more detailed information.
Brainstorming
is a strategy for generating creative ideas and solutions. It is thinking that is definitely "outside the box." Because its focus is the generating, not the evaluating, of ideas, brainstorming works especially well in groups. An idea offered by one individual may inspire ideas in others in the group, which in turn inspires more ideas.
Canvas Tools to Brainstorm: Chat, Conferences (Whiteboard), Discussion
External Tool to try: Padlet 
Cooperative learning groups or learning groups, or groups "are heterogeneous with respect to student characteristics and have two to six members sharing the various roles. Group members are interdependent in achieving the group learning goal."
Canvas Tools for cooperative learning: Conferences, Chat, Groups, Peer review tool
External tools: Twiddla 
Debate is an oral exchange of ideas through a specified structure. In Saskatchewan, competitive debate is broken into 3 main styles: discussion, cross-examination, and parliamentary. Each of these styles of debate depends upon good speaking style, strong research skills, the ability to construct argumentation and clash. Canvas Tools: Discussion, Media Comment Tool, Collaborations
Canvas Tools for debate: Discussion, Media Comment Tool
External Tools: Debate or Argument Map (though this tool is aimed at K-12, it could be used to get students started outlining a debate or persuasive paper)
Online Labs include individual or cooperative learning groups in an experimental setting using existing resources. There are many free online labs that have interactions you can link to. One great example is PHET.
Another idea to make your course interactive
Interactive PowerPoint Interactive Templates
Using visuals and infographics