In some instances you may want an alternative to the PowerPoint format for presenting materials in your Canvas course. Here are the options that can be completed easily or for free if you wish to try them out.
If you are continuing to use PowerPoint:
Alternative formats to Consider
1. Save as PDF
Done from within PowerPoint. Click File >save as PDF (see image below).
2. Save PowerPoint as PowerPoint Show
The file format .PPS is a PowerPoint Show, an alternative PowerPoint Presentation (PPT). By clicking Save As and selecting .PPS (PowerPoint Show), when you double-click the .PPS file, it will auto launch into the show mode. This format makes the editable PowerPoint file format (.PPT) not available for student download. This is an option some faculty may prefer.
3. Turn your PowerPoint into a video
This option can be completed in PowerPoint 2010 and later. Follow the steps here.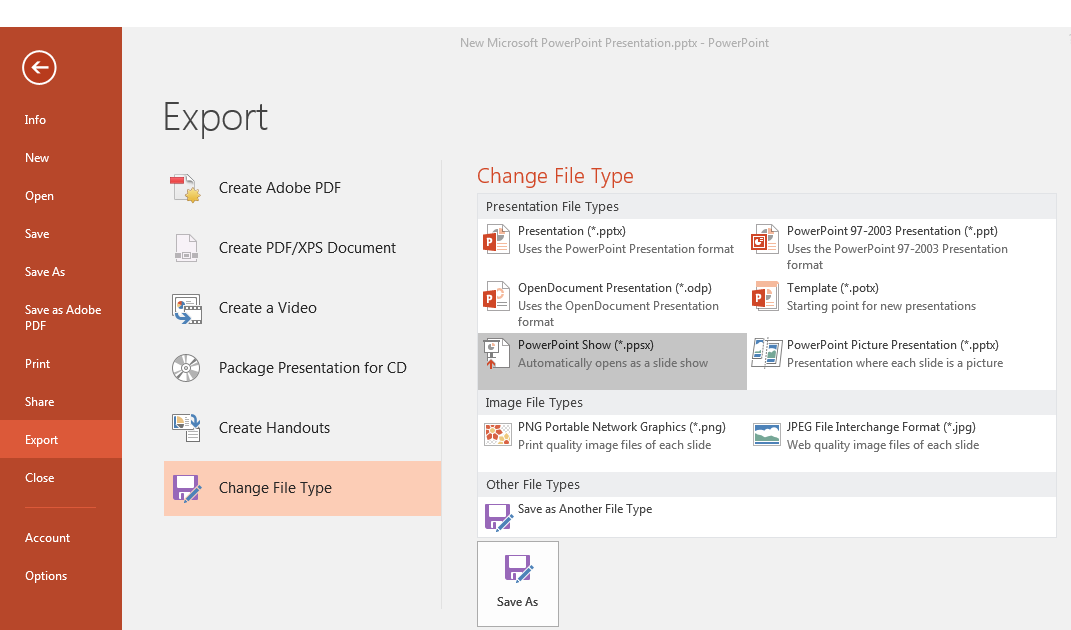 4. Try Haiku Deck
Haiku Deck used a format that has short, concise wording on each slide and large clear images. Haiku Deck can be embedded in Canvas.
5. Upload to Slideshare
or another free service and embed within Canvas. You can make the files non-downloadable if you prefer.
6. iSpringFree Creates Flash version of your presentation.
iSpringFree is free and when you download and install, add buttons to your PowerPoint menu to quickly publish slide shows as video.


7. Upload to Google Slides
Google slides are free and embed easily in Canvas.

8. Use Canvas Tools

Killing PowerPoint: Effective Online Lectures Using Canvas Tools, Rebekah Grow, University of Utah from Instructure on Vimeo.
This video demonstrates how some University of Utah classes are using tools inside of Canvas to create their online lectures in combination with using A Cognitive Theory of Multimedia Learning: Implications for Design Principles (Meyer and Moreno) as a guideline for measuring its effectiveness.