Creating a Turnitin assignment is similar to creating an online submission in Canvas. View the following link to learn more about creating a Turnitin assignment.
NOTE: You may create your assignment from wherever you normally would, for ex. Modules. Don't forget to attach the assignment to the appropriate module, if applicable.
---
While editing an assignment.....In the Submission Type, select Online from the drop down menu and click File Uploads. Once this is done and additional option will appear: Plagiarism Review. Here you will select Turnitin from the drop down menu and check off any options you wish to enable.
Remember to click Save or Save and Publish when done.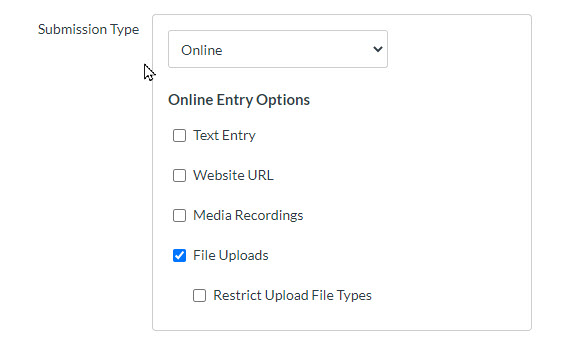 Index all submissions: When a submission is indexed by Turnitin, it is made available for comparison in future Similarity Reports. An unticked check box will still return a Similarity Report but the papers submitted to the course will not match against any future submissions.